Słovnik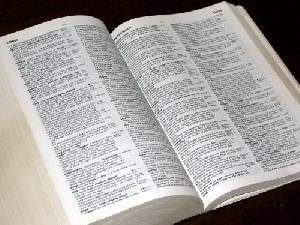 Pôlśko-pudlaśki słovnik z odvorôtnym pošukom — pracia v rozvitku.
Knopka PL-PDL zapuskaje šukanie tych artykułuv, kotory dajut perekład pôlśkoho słova z pola pošuku na pudlaśku movu.
Knopka PDL-PL zapuskaje šukanie vsiêch artykułuv, v kotorych vystupaje pudlaśkie słovo z pola pošuku.
* * *
V polovi pošuku Vy možete vžyvati symbolu * (zôrka) jak mnôhoznačnika, na prykład: ala* (šukati vsiêch słôv, kotory začynajutsie na ala...), *tka (šukati vsiêch słôv, kotory kunčajutsie na ...tka), itd.
Usiê artykuły v słovniku: 12 247
but
m bot m; ◊ głupi jak ~ z lewej nogi durný jak čóbut; nie kiwnąć palcem w ~cie pálciom ne povorušýti; to takie ~ty! to takóje diêło!
This dictionary is powered by AmDictionary PHP5 Class 1.0.0. Copyright © 2008-2020
Aleksander Maksymiuk